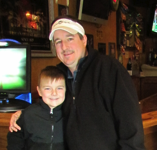 Member of the Month
The Pennsylvania Licensed Beverage Association Member of the Month
June 2015: Joe Cicala
Busty's Tavern: An Upper Darby Staple Since 1936
Business History
To say that Joe Cicala has always been in the industry is understatement. Joe's grandfather, Sebustiano, an Italian immigrant originally opened Busty's Tavern back in 1936 and since then, it has been a family-run establishment. After grow- ing up in Busty's and doing everything from dishwasher to bar-back, Joe attended college at Widener University. After graduating with a degree in Hotel and Restaurant Management, Joe found himself working at various restaurants as a chef and finally in 1995, started working for his father again at Busty's.
About the Business
Learning everything from his father, Jack, Joe took on the management position at the Tavern and for years has worked to improve the business. Having been expanded to the adjoining building years earlier, Busty's has seen a number of improvements and renovations over the years. After Jacks passing in 2004, Joe took over the business and has been able to insure that Busty's continues to be the "best little bar in Delco," having increased the beer selection and events within the community.
Giving Back
After being welcomed into the community with open arms all those years ago, the Cicala's have always been a family that gave back to their neighbors. Some of the favorite charities over the years include the Highland Park Fire Company, the Highland Park Kirklyn Athletic Association (HPKAA), and St. Lawrence Elementary School. HPKAA was a youth sports recreational league formed in 1960. Busty's was the very first business sponsor of the organization and received an award in 2010 for 50 years of continuous support of the organization. Joe, in keeping with his father's memory and his grandfather's wisdom, continues to annually support St. Lawrence, HPKAA, Highland Park Fire Company and numerous other charities through the Jack Busty's Charity Memorial Golf Event. Joe organized this annual event and since 2004 has raised over $138,000.00. Be sure to stop by this historical neighborhood establishment the next time you pass through Upper Darby!
Busty's Tavern
8013 West Chester Pike Upper Darby, PA 19082
610-789-9836
Delaware County
1936-Present
Busty's Tavern Facebook Page