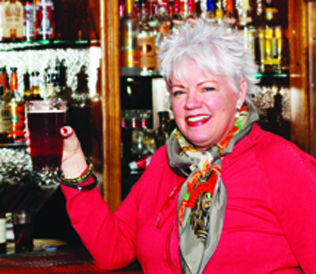 Member of the Month
The Pennsylvania Licensed Beverage & Tavern Association Member of the Month
July 2015: Jan Hench
McCoole's: The First Tavern & Hotel in Quakertown
Business History
Not always a part of the restaurant and hospitality business, Jan Hench and her partner spent their time investing in real estate. At the time she served as a volunteer, board member and chief cook for the Main Street Theater, so when the building next door became available in 2002, Jan and her partner jumped at the opportunity to invest in a restaurant. The building was Quakertown's first tavern and hotel back in 1747 but had not been operating as a restaurant for many years. Needless to say, it required nearly a year of extensive renovations to restore all of the historic attributes. It was initially leased to a chef and operating as The Historic Red Lion Inn but when the chef decided to move on, Jan hired another chef and began running the restaurant in 2005 as McCoole's at the Historic Red Lion Inn.
About the Business
After the Main Street Theater closed down in 2007, Jan purchased the building to provide additional outdoor seating for McCoole's and to be used as a much needed banquet space for the community. They named the facility McCoole's Arts & Events Place, and addition to having the space available for theater productions and business seminars, they also created a space for their microbrewery, The Red Lion Brewery. Recently, Jan and her staff have opened a third room in the Arts & Events Place called The Gallery which can be rented out for dinners and parties. McCoole's also offers complimentary wine tastings the first Wednesdays of each month, a complimentary shuttle service (Mane Street Shuttle) for their patrons, as well as a Beer Festival held every year in their wine and spirits garden. As they get ready for their 10th year anniversary in November, McCoole's has revamped their menu to feature more locally grown, antibiotic and growth hormone free foods.
Giving Back
Jan Hench and her staff are extremely involved within the Quakertown community. Because they have a theater and attractive banquet space, they are often asked to host fundraising events, for which they usually donate the building space. They are involved with the Upper Bucks Alliance for Creative Expression, which fosters the arts for area youth. In addition, they support St. Luke's Hospital, Star of the Day Event Productions, the Veterans Support Centers of American Paws Program, the Richland Area Softball Association as well as the Upper Bucks Enforcers. Be sure to stop by McCoole's to experience all they have to offer to the community. For more information, please visit www.mccoolesredlioninn.com!
McCoole's at the Historic Red Lion Inn
4 S. Main Street
Quakertown, PA 18951
215-538-1776
Bucks County
2005-Present
www.mccoolesredlioninn.com