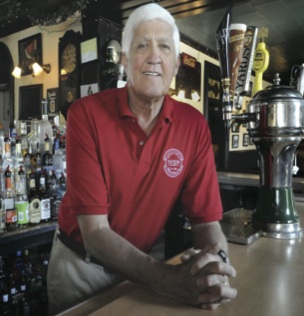 Member of the Month: April 2017
The Pennsylvania Licensed Beverage & Tavern Association 
Member of the Month: Shank's Tavern, Bob Shank
"If these walls could talk"
Industry History
Shank's Tavern was built in 1814 by James Stackhouse, a retired riverboat captain. In 1930, John and Kathryn Shank bought the tavern from Ernest Maulick, a local brewer. John and Kathryn renamed it Shank's Tavern, they passed it on to Bob's parents, Kathleen and J. Robert Shank Jr. Bob's recalls the days when he and his younger brother hung out behind the jukebox, watching the locals enjoy a cold beer. When Bob's parents divorced, his mother took over the business. When Bob got out of the Navy his mother asked him to come and help her for a while, that was 45 years ago.
About the Business
Bob had moved to Florida with friends to open his own bar. When that venture failed four years later, he moved back to Marietta. He didn't want to be involved with the business but eventually realized he had a lot at stake and realized he had a lot to offer the community. With a renewed energy, Bob began looking at ways to revitalize the tavern. He and his mother made an unusual decision for a bar and closed on the weekends. Shank's Tavern is now open only for private parties on Saturday nights, except for occasional special community events. Over the years, Bob has added air conditioning and an outdoor patio, but didn't add on to the building. Bob doesn't want to lose the coziness of the place. The tavern features a U-shaped bar installed by Bob's father. The tavern has survived countless floods, six since Bob has been in charge. For more information, please visit www.shankstavern.com.
Giving Back
Shank's Tavern feels it is important to give back to the community. They hold an annual fund raiser for their local animal rescue. This year's entertainment will be Wolfmoon Revival, along with local food trucks, raffles and we can't forget the adorable rescue dogs that will be hanging out in the backyard. In previous years, Shank's Tavern hosted a Gumbo Cook off to support animal rescue and they've held auctions to raise money for Relay for Life.
Shank's Tavern
36 South Waterford Avenue
Marietta, PA 17547
717.426.1205
Lancaster
2012-Present