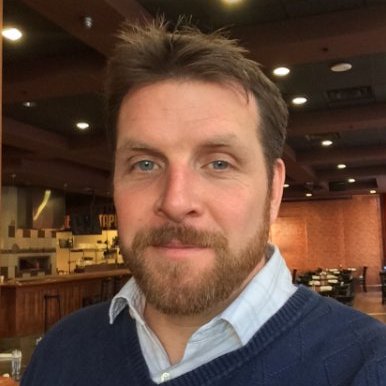 Member of the Month: February 2017
The Pennsylvania Licensed Beverage & Tavern Association Congratulates: Member of the Month
February 2017: Federal Taphouse Lancaster, Corey Fogarty
"High-End Food, Beer & The Arts!"
Industry History
Corey Fogarty first got his start in the industry at the age of 15 as a busser at Chi-Chi's Restaurant in Lancaster in the 1980's. Over the next few years, Corey held every kind of job from waiting tables to training for T.G.I. Friday's to bartending through- out his college years. A born-entrepreneur, Corey had a number of small businesses throughout his 20's and then moved on to work in the technology and real estate industries. Feeling the need to return to the restaurant industry again, Corey began working for Hopjacks Pizza Kitchen and Taproom that had locations throughout Florida and Alabama. From there on out, Corey designed and built a number of restaurants in various states.
About the Business
After moving back to his native Lancaster, Corey was ready for another endeavor. The idea of creating a business concept based on high-end cuisine, a large beer selection, and music really took shape when Corey met Judd Goodman, a restaurateur out of Harrisburg. The two worked together to create The Federal Taphouse brand and soon after, Judd was able to open the Harrisburg location in late 2012 while Corey went on to open the Lancaster location on July 1st, 2013. Since the grand opening, the people of the surrounding Lancaster area have really taken to the Taphouse's wood-fired oven and coal-fired specialties. In addition to a constantly evolving menu, with 100 beers on draft, what's not to like! The Federal Taphouse model is largely based on the arts. While both the Harrisburg and Lancaster location host a number of musicians and shows, Taphouse Lancaster also houses an 80-piece art gallery featuring the works of local artists.
Giving Back
Not only a supporter of the arts, Corey and the Federal Taphouse also participate with a number of community charity events and causes. The most recent way of giving back to the community, was feeding all of the Lancaster City police officers who worked Christmas Eve and Christmas Day. Corey feels it's a way of serving those who serve the community. Their goal is to constantly have a program in the restaurant where they are giving back to someone or something. They feel it's important to give back to the community. If you're into great food, beer, music, and the arts, be sure to visit The Federal Taphouse Lancaster or their sister location in Harrisburg. For more information on upcoming events, go to www.federaltaphouse.com!
Federal Taphouse Lancaster
201 N. Queen Street
Lancaster, PA 17603
717-490-6932
Lancaster County
2013-Present