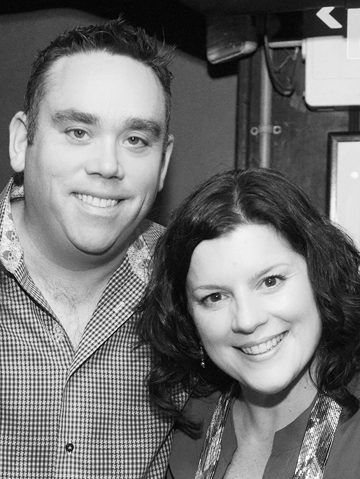 Member of the Month: January 2016
The Pennsylvania Licensed Beverage & Tavern Association Member of the Month
January 2016: Heather Gleason and Dave Garry
Come. Sit. Stay.
Industry History
Husband and wife team, Heather Gleason and Dave Garry, are no strangers to the industry as both began with the basics years ago. Dave started as a barback at The Plough and Stars and Heather as a server at Chili's while attending St. Joseph's University. Some years later, after Heather had tried her hand at the corporate world, both decided to go into business for themselves. In 2003, Heather and Dave opened the Good Dog Bar, committing themselves to offering quality food and craft beer at a low price in a city where gastropubs, bistros, and small, chef-driven restaurants had begun to explode.
Business Growth
Heather and Dave's love for animals inspired the theme for the bar that now offers a dog photo contest every year for their anniversary party in December. Since the beginning, they have also been focused on offering customers the best food and drink at the lowest prices. Every Wednesday, they feature half off cans of beer and from Sunday to Thursday, they offer "in the biz" discounts to all industry employees. This focus on giving back to the employees of area bars and restaurants eventually led to the concept of their second business, The Industry, which they opened in June of 2012. Here, the walls are adorned with people of the Philadelphia restaurant scene and it's where those in the business can also take advantage of a 20% discount everyday of the week.

Giving Back
As long time business owners, Heather and Dave have always been involved with giving back to the community and the customers that frequent their establishments. Every year for their anniversary party at the Good Dog, they team up with the Morris Animal Refuge for which they've raised over $40,000 since 2003. For the Industry's anniversary party, they, along with Victory Brewing Company raise money for the Edward O'Malley Athletic Organization, an organization that funds local sports fields. Other organizations that they participate with include Action Aids, Dude Hates Cancer, FOP Lodge 5 & Survivors Fund, Fire Department-Local 22, Victim Wellness South Philly, St. Mary's Harvest Hoedown, the Reed Smith Holiday Drive, and many more. If you find yourself in the city of Brotherly Love, please be sure to stop at the Good Dog and Industry. Their food is to die for and their drink specials are bar none! 
The Good Dog Bar
224 S. 15th Street
Philadelphia, PA 19102
215-985-9600
Philadelphia County
2003-Present
www.gooddogbar.com
The Industry Bar
1401 E. Moyamensing Avenue
Philadelphia, PA 19147
215-271-9500
Philadelphia County
2012-Present 
www.theindustrybar.com