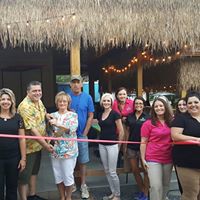 Member of the Month: January 2017
The Pennsylvania Licensed Beverage & Tavern Association: Member of the Month
January 2017: The Friendly Tavern, Barbara "Peggy" Spene
"A cozy place for all to eat, drink and be merry"
Business History
In 1967 Robert McKee and his wife Larue started humbly but with a grand plan to create a cozy place for all to eat, drink and be merry. Bob and Larue's daughter, Peggy decided to follow in her parent's footsteps. Peggy took the bar into new directions by tearing down the old tavern back in 2001 and built the new Friendly Tavern, Irish Pub and Six Pack Shop. The Friendly Tavern has been in Peggy's family for forty-nine years. Peggy's sons Bob Kiel and William Kiel became part owners of The Friendly Tavern in 2015 making it three generations of hospitality and fun.
About the Business
In 2001 The Friendly Tavern added a six-pack take out shop to enjoy all of your favorite beers at home. The Friendly Tavern decided in 2016 to change things up again. They decided to bring the feel of a beach bar to their customers while they were still in the city. In July they opened their new addition the High Tide Tiki Bar & Grill. The Friendly Tavern added a tiki bar and a fire pit to sit around and enjoy good stories, laughs, cocktails and great food. They also added an area to play corn hole and horse- shoes if you enjoy friendly competition. In September they added a "year round" enclosure to the tiki bar and patio.
Giving Back
The Friendly Tavern feels that it is important to give back to the community. They are active in The Greater DuBois Chamber of Commerce. They have plans to work with the YMCA in the future to help raise money for their local programs. If you would like more information about The Friendly Tavern go to www.thefriendlytavern.com.
The Friendly Tavern
633 South Brady Street
DuBois, PA 15801
814-375-0966
Clearfield County
2009-Present