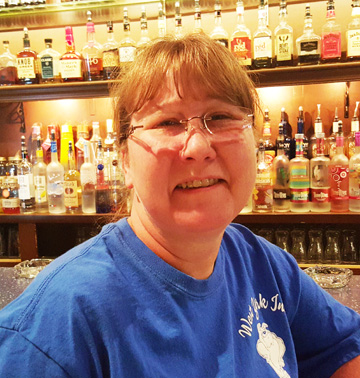 Member of the Month: October 2015
The Pennsylvania Licensed Beverage & Tavern Association Member of the Month
October 2015: Matti Berkheimer
West York Inn: Your Favorite Neighborhood Hangout! 
Business History
Matti Berkheimer spent most of her adult life raising her children and running her own interior plant maintenance business. It wasn't until she was looking for a part-time job in 2006 that she inquired at her favorite bar, the West York Inn. Luckily, owner Tom Garretty decided to give her a chance tending the bar. By 2011 Matti worked full time as a manager, helping Tom run the front and back of the house. When Tom passed away a few years later, Matti took over ownership and operations at the West York Inn.
About the Business
In recent years, Tom had updated the poolroom and installed a new liquor system that tracks costs and insures that every drink is served correctly. And after taking over, Matti continued to do a number of things that have helped to grow the business at the Inn. In addition to installing a new bar top and outside lighting, as well as fixing the ramp entrance, she also took more notice of the kitchen which will soon be serving a new, more concise menu reflecting the tastes of the customers. West York Inn features wings every Tuesday night and clams on Thursdays. They also allow customers to run the Jukebox every Friday and Saturday nights after 10 PM.

Giving Back
Some of the West York Inn's favorite organizations to give back to include the West York Fire Hall, the West York Fire Department, St. Jude's Children's Hospital, and the West York Block Watch with their National Night Out activities. They are also big participants of Shop with a Cop, an organization that takes children in need Christmas shopping with area police officers. Matti and the West York Inn are also very active with the York County Restaurant & Tavern Association where they help with the annual fundraiser and the Pennsylvania Licensed Beverage & Tavern Association's annual Golf Tournament. Be sure to stop by the next time you're in the area for all that the West York Inn has to offer!
West York Inn
1400 W. Market Street
York, PA 17404
717-845-5884
York County
1999-Present