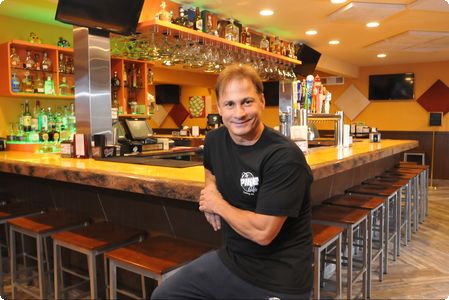 Member of the Month
The Pennsylvania Licensed Beverage & Tavern Association Member of the Month
April 2015: Michael Pullano
Reading's World Famous Pike Cafe
History
The Pike Café in Reading, Pennsylvania originated in the 1940's as a bakery and corner store, and then turned into a beer and shot bar years later. Growing up just down the street, Michael Pullano can still remember poking his head into the bar to let his father know that dinner was ready. Fast-forward to 1985 when after working construction in Philadelphia, Michael was convinced to go in as partners with a bartender-friend to buy a place of their own. At the ripe young age of twenty-four, the two friends bought The Pike Café on February 13th, 1985 and 30 years later, it has grown to become a favorite neighborhood bar and restaurant.
About the Business
One year after buying The Pike Café, Michael bought-out his partner and began to expand the business. The Pike started off by providing a few steam tables of food and wings and with such an overwhelming response by customers, Michael decided to look into expanding not only the kitchen but the bar as well. Soon enough, the Pike was a full-fledged bar and restaurant with daily lunch and dinner specials, as well as a variety of beer and spirits to offer. As time went on, Michael began buying up adjoining properties and expanding the Pike's square footage. He also bought two buildings across the street that he tore down and converted into a safe, well-lit, off-street parking lot for customers. The Pike Café now features a 24-spigot tap system with an ever-changing draft selection and nightly chef features including Wing Night, Steak Night, Shrimp Night, Clam Night, and Rib specials. Customers can always find something to satisfy their hunger!
Giving Back
Known as one of the best locally-owned establishments in Berks County, winner of the Best Wings in Berks County, and the Best Sports Bar in the county, the Pike Café regularly gives back to the community that has embraced them for so long. The Gilmore/Henne fund gives back to the community by rehabilitating Reading-area playgrounds for the city's youth. Another favorite charity includes the Officer Phil Program that teaches elementary school children safety. Other charities that the Pike supports include Albright College golf outings, Nurses Week, Cancer Research golf outings, plus many more. The Pike also supports a number of local recreational teams such as a dart team, shuffleboard team, volleyball team, and inner-city baseball and basketball teams, to name a few. If you need a place to go for a quick bite, a gourmet meal with clients, or to watch sports with friends, be sure to stop by the Famous Pike Café! For more information, please visit www.pikecafe.com.
Pike Cafe 
930 Pike Street
Reading, PA 19604
610-373-6616
Berks County
1985-Present
www.pikecafe.com