Harrisburg Check-in With Rep. Dan Deasy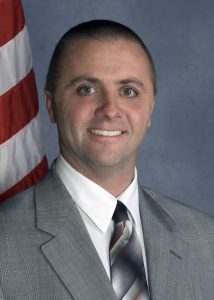 The Pennsylvania Licensed Beverage and Tavern Association sat down with Rep. Dan Deasy recently to learn more about his perspective on the liquor industry, including Act 39 and the current political landscape. Rep. Deasy is Democratic Chairman of the Pennsylvania House Liquor Control Committee. He serves the 27th District including part of Allegheny County.
PLBTA: Thinking back to your first elected position, what motivated you to run for public office?
DD: I would say that the real motivator for me to run for office was the opportunity to make a difference in my community.  I began my elected career as a Pittsburgh Councilman and was very involved in many issues at the time.  It seemed a natural step to expand those opportunities at the state level.
PLBTA: What makes you particularly interested in chairing the House Liquor Control Committee?
DD: Right away I knew that becoming the Democratic Chairman of the House Liquor Control Committee would allow me to work on issues that have been important to me.  I have a strong background in labor and generally speaking the dynamics of the committee are diverse but collaborative and I really felt we could work together to get things done.  Liquor is an evolving business which addresses a multitude of issues from small businesses, labor, and consumer convenience. It's not a stagnant industry but one that is constantly changing as demand for the product changes.
PLBTA: Our members are mostly mom and pop operations. When they look around their hometowns, they can see that the local hardware store has closed, the independent doctor was bought out by a hospital chain, and the neighborhood grocery store is no more. They worry that their industry is next.  Do you every worry about small businesses going away?
DD: Absolutely, many of our caucuses' efforts to prevent privatization are geared towards protecting small businesses.  Once big box stores are the main retailer of alcohol, we can pretty much forecast the demise of independently owned alcohol retail establishment.  I recognize that taverns are more than just a place to grab a drink, they are often the social hub of a neighborhood/community.  They are a place to step away from the daily grind and relax. I don't want to see them be the next small business closed.
PLBTA: Do you have an agenda for the Liquor Control Committee this legislative session? Are there issues that concern you with the system today, or that you see as needing change to make the system more workable or efficient for those in the industry and for consumers?
DD: This is a unique year and we have many new members on the committee this session, from both sides of the aisle, so first we must make sure that everyone not only understands the substantive changes realized by Act 39 but also take an in-depth look at the impact of any new legislation could have on the industry as a whole. I would like to see the committee move legislation that would strike a balance to providing consumers with the convenience they are requesting without sacrificing the controls that we have in our current system.
PLBTA: Passage of Act 39 forced many changes in the retail liquor industry, with unintended consequences for many licenses.  Taverns are facing more competition than ever before. Do you anticipate the Liquor Control Committee looking at the impacts of Act 39, and making any changes to help level the playing field for all licensees?
DD: I believe it is very important to work with our stakeholders, like the Tavern Association, to address problems/concerns they are facing. The impacts of Act 39 are still being realized and I am committed to helping correct any problems that may have inadvertently been created.  Keeping an open dialogue so we can move forward to address everyone's concerns is the only way to have positive change.
PLBTA: One result of Act 39 has been delays in timely beer deliveries due to the expansion and universal availability of beer at large retailers and convenience store, which were not in the beer business prior to the Act.  At times, bar owners find themselves out of supplies, but current law doesn't allow tavern owners to pick up beer when they are short through no fault of their own. Would you support legislation that would allow tavern owners to pick up limited amounts of brewed and malt beverages when they run out.
DD: While grocery and convenience stores have been licensed to sell beer since the early 2000s, the changes in the way people shop have definitely expanded the number of these outlets choosing to acquire licenses.  I can see how the increased number of retail outlets which focus on "take-out" beer can impact bars and taverns.  I would support taking a look at expanding the delivery/pick-up options available for licenses in a manner that would still preserve the three-tier system.
PLBTA: Bar owners often pay servers and bartenders through the wage-tip structure that guarantees minimum wage through a combination of a tavern hourly wage and tips. They often can make more… $15, $20, $25 per hour. This structure helps the small business and the employee. Gov Wolf wants to change the minimum wage rules, possibly going as high as $15 /hour and setting tipped minimum wages at 75% of the overall minimum.  Some worry that patrons will feel tipping is not necessary due to a higher wage.  If this were to happen, it may actually cause servers and bartenders to make less.  How do you feel about the wage-tipped wage structure?
DD: The minimum wage issue has many factors which complicate the issue and I believe it is imperative that we take into consideration what a livable wage means. In a way it may be a good thing that something wasn't hurriedly done to beat a budget deadline which would negatively impact certain pay structures. We must certainly look out for those trying to support and sustain their family all the while balancing the challenges of certain industries. The wages tip structure has worked well for many workers and I would like to see us try to maintain that system while also addresses other inadequacies.
PLBTA: Everyone has their favorite ba, or tavern. These establishments can be great places to gather with friends. Without specifically naming your favorite, what make it so special that you keep going back?  What stands out about it?
DD: I actually have a few favorite local establishments. This time of year I like to enjoy being outdoors, enjoying a cocktail so that is a big plus for me. I also look forward to going out anywhere and not having a discussion about politics. This is very important to me because that dominates most of my time and it's nice to get away from that from time to time.
The above Q&A was republished from the August edition of Pennsylvania Observer, the official magazine of the Pennsylvania Licensed Beverage and Tavern Association.