OUR HISTORY
Taverns have served our nation for generations, standing as important community and social locations that led to independence.
Philadelphia's City Tavern was host to members of the First Continental Congress in 1774.

Philadelphia's Tun Tavern was the birthplace of the United States Marine Corps in 1775.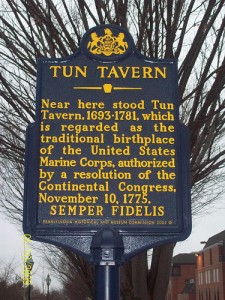 The Tavern Association was founded after prohibition, in 1941, to defend and promote the state's taverns and businesses.
Over the decades, our association has worked to update laws to fit a new economic environment and continue the successes of our industry.
Today, our association is the only non-profit trade and lobby organization exclusively serving the retail licensees of Pennsylvania.
---
 WHO WE ARE
The Tavern Association is comprised of retail licensees all across Pennsylvania, including restaurants, bars, taverns, resorts and bottle shops.
We work to maintain a positive business climate to ensure continued growth for our taverns and licensees.
We work with our members in many ways, offering various insurances, industry certifications and guidance in navigating laws and regulations.
---
 SERVING OUR COMMONWEALTH
Our industry plays an important role in Pennsylvania's local and state economy. 6,000 licensed businesses employ over 100,000 Commonwealth citizens every year.
Annually those businesses contribute:
$72,000,000 in local taxes and school taxes

$67,300,000 in liquor taxes

$346,000,000 for inventory from Pennsylvania State Stores
---
 SERVING OUR COMMUNITIES
Our members continue to give back to the communities they serve, donating to the following charities & organizations:
American Cancer Society

American Red Cross

Autism Speaks

American Rescue Workers

ASPCA

Allentown Rescue Mission

Boy Scouts of America

Breast Cancer Walk

Big Brothers, Big Sisters

Carlisle Rotary

Cub Scouts of America

Cultural Alliance

Elder Community Services Corp.

Girl Scouts of America

Hughesville Fire Company

Lehigh Valley Veterans Assoc.

LGBT Center Coalition

Make-A-Wish Foundation

March of Dimes

Mason Dixon Baseball Assoc.

Mountville Youth Center

Newspapers in Education

Philadelphia Children's Hospital

Relay for Life

The Salvation Army

Special Olympics

Students Against Drunk Driving

South Central AIDS Fund

Toys for Tots

United Way

Victim Assistance Center

West Grove Public Library

Williamsport Police Department

YMCA of the Juniata Valley

York Fire Department

Plus many more!
---
 TODAY
From neighborhood taverns, bottle shops, delis and corner pubs to five-star restaurants and resorts, our licensees are an important part of our state and local communities.
The Pennsylvania Licensed Beverage and Tavern Association looks to continue building a business environment that benefits the industry and customers alike.
CONTACT US
---
Address:
214 Pine Street
Suite 100
Harrisburg, PA 17101
Phone:
1.800.543.7683
Fax:
717.234.4377
Email:
pataverns@pataverns.com