PA DOH to restaurants: Do not serve any romaine lettuce
An E.coli outbreak is causing concern and a warning from the Pennsylvania Department of Health to not eat or serve any romaine lettuce.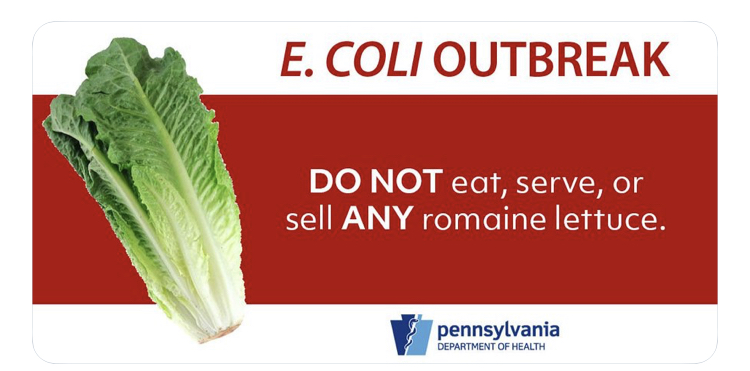 The state DOH warning came shortly after the Centers for Disease Control and Prevention (CDC) issued a health alert indicating they and others are investigating a multistate outbreak of Shiga toxin-producing Escherichia coli O157:H7 (E. coli O157:H7) infections linked to romaine lettuce.
According to the alert, the CDC advised U.S. consumers not eat any romaine lettuce, and retailers and restaurants not serve or sell any, until more is known about the outbreak. This investigation is ongoing and the advice will be updated as more information is available.
This advice includes all types or uses of romaine lettuce, such as whole heads of romaine, hearts of romaine, and bags and boxes of precut lettuce and salad mixes that contain romaine, including baby romaine, spring mix, and Caesar salad.
Restaurants and retailers should not serve or sell any romaine lettuce, including salads and salad mixes containing romaine.
Thirty-two people infected with the outbreak strain of Shiga toxin-producing E. coliO157:H7 have been reported from 11 states.
To read the CDC advisory, click here.