Operation Recovery
Rebuilding The Tavern Industry After COVID-19 By Rebuilding Consumer Safety Confidence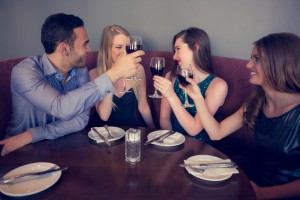 Even as COVID-19 restrictions are eased throughout the country, a Gallop poll conducted in April shows a problem taverns and licensed restaurants face next – confidence in personal safety.
In a nutshell, the poll suggests that Americans are hesitant about resuming their normal daily activities amid the COVID-19 outbreak.
For those interested in statistics, the majority of Americans (71 percent) say they will wait and see what happens with the spread of the virus once restrictions are lifted before they return to their normal activities. Ten percent say they would wait indefinitely. These statistics are similar between ages, urban vs. rural, and even political affiliation.
That means only 19 to 20 percent are comfortable returning to their normal activities once restrictions are lifted.
It also means the industry will need to work hard to rebuild business.
Part of that rebuilding will be proving to customers that the industry will keep them safe.
So, what can you do to show your customers you're keeping them safe as restrictions are lifted? We recommend being proactive and offer the following suggestions:
Clean, clean, clean – Make your establishment smell clean from the moment someone walks in! Demonstrate to your patrons by having your staff visibly cleaning the dining area. Tables will need to be wiped thoroughly after each patron. And, don't forget to sanitize the chairs and other nearby items that they might touch. If your business uses an outside cleaner for fogging, let your customers know that.
Mask up – How often have you heard Pennsylvania Secretary of Health Rachel Levine MD say "Remember, my mask protects you, and your mask protects me." … probably almost daily, right? Constant repetition and fear of COVID-19 has created a new mask-wearing culture. And, that has built an expectation within the public. You'll help yourself rebuild your business by making sure your staff wear masks.
Visible Hand Sanitizers – Clean hands are part of infection control. Put hand sanitizers in locations that are visible and can be easily used by customers and staff. Have a sign near the entrance of your establishment asking customers to use the hand sanitizers.
Remove the salt and pepper shakers – Ever wonder who touched that salt shaker last? Trust us when we say, that's going to be on the minds of many more now than ever before. You probably don't want to leave shakers, ketchup bottles and other related table items out. Ask your customers if they need condiments, and then bring those requested items to the table.
Outside the box menus – If customers are wondering who touched the salt shaker last, they're also asking the same question about the menu. With COVID-19 still lingering, traditional menus will not be helpful in rebuilding customer safety confidence. Having a rotating pre-fixed menu that can be easily recited by servers might be a consideration. For establishments with larger menus, consider putting options online and then encourage patrons to use their smart phones to review. If that's not an option, one-time use menus might work. Or, use a plastic covered menu that is sanitized as it is delivered to the customer.
Get rid of the buffet – Everyone loves a good buffet. But will they still show the love? Our guess is that many will be avoiding buffets for some time.
The CDC has made available an online document titled "Cleaning and Disinfecting Your Facility." The document can be found at https://www.cdc.gov/coronavirus/2019-ncov/community/disinfecting-building-facility.html. We recommend tavern and licensed restaurant owners and managers read this document.
This story has been republished from the June 2020 edition of Pennsylvania Beverage Media, the official monthly magazine of the Pennsylvania Licensed Beverage and Tavern Association. To read the full magazine, join today and get a year-round subscription to the print edition.