Taverns Tip: Are You Using Your POS for Marketing?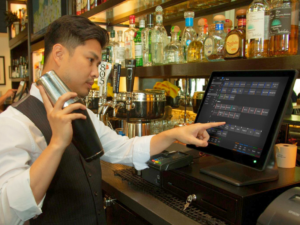 By Daniel Rivkees
POS Philly
Point-Of-Sale systems are a vital component of any bar's operations. POS has taken the role of bar's central nervous system. This is where voluntary and involuntary commands are hailed from the front-of-house to back-of-house and beyond. Over the past several years, POS developers have augmented their products' range. One of the most important developments: turning a POS system into a marketing machine.
POS developers are releasing marketing tools to reach customers. This includes integrated email platforms, SMS text marketing, and digital review management. Bar owners need to think of their POS system as central to their marketing rather than a simple order taking device. POS marketing tools can centralize efforts and streamline campaigns.
Staying in front of customers is a top priority for any business, especially bars. With so much competition, barkeepers need to focus on keeping their loyal customers coming back and how to incentivize new ones to return. Promoting deals like happy hour with in-restaurant posters is one way of accomplishing this. There are better, modern ways of marketing your business through your POS system.
Email Marketing  
Reaching customers via email is possible in more POS software packages. Instead of using a costly 3rd party email platform, utilize your POS system's email marketing tools. Using in-house, non 3rd party software makes managing email campaigns easier. A POS email marketing platform can cut email marketing management time in half and reduce costs as well.
It's legitimate to ask, "how can I collect emails for marketing?" Great point. Products like SpotOn POS can collect emails from a few places.
Require guests using a guest Wi-Fi access point to input email information.
Use emails from customer loyalty program.
Ask customers to subscribe to an email list.
Collect emails from online ordering.
SMS Text Marketing 
Let's take the next step and discuss text messaging. Customers are even more likely to return to a bar if they interact with text message marketing. Texting customers with a short code (six digits) or long code (ten digits) phone number with deals and specials can incentivize recurring business. Use text message marketing to let loyalty customers know about exclusive deals. Notify customers of upcoming live music, beer specials, and more.
Digital Review Management   
Another major way to use a POS system for marketing is syncing digital reviews. First impressions can be everything, especially to new potential customers. Answering and responding to Google, Yelp, and Facebook reviews can mean bringing in or turning away new business. SpotOn POS has a digital review module to sync major review platforms into its back-office software. This can help cut down on time managing reviews by reducing logins.
Are you asking, "Is my point-of-sale helping bring in new customers?" See how your POS provider can help you utilize its tools to create new revenue. Contact us at POS Philly if you would like to explore ways to reach more customers. We're here to help all PA Taverns members 365 days a year.
Editor's Note: POS Philly is a preferred vendor of the Pennsylvania Licensed Beverage and Tavern Association.