Digitize Driver Licenses! A Look At What Rep. Dan Miller Wants To Do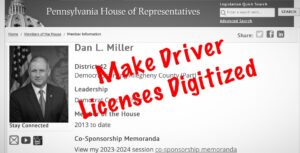 S1E6 of Pennsylvania Tavern Talk has been released and covers anticipated legislation that would give drivers from the Keystone State an option to have a digitized driver's license (DDL). You can watch this video via YouTube by clicking here.
Rep. Dan Miller in a recent cosponsorship memo to his House colleagues wrote, "Under my legislation, PennDOT would develop an app that provides users with a copy (front and back) of their license. It would allow PennDOT to apply a reasonable fee for the download, renewal and updating of the license. The bill will also allow for mobile state ID cards to be created."
You can read the full cosponsorship memo at by clicking here.
The PLBTA has been intouch with IDScan.net, which says it has equipment to handle digitalized IDs. And, they provide details from each state and their digital ID efforts via this link.
This episode is part of a playlist series (2023-2024 Legislation) that covers bills and cosponsorship memos that would impact Pennsylvania's mom-and-pop bars, taverns, and licensed restaurants. Pennsylvania Tavern Talk is hosted by Chuck Moran, executive director of the Pennsylvania Licensed Beverage and Tavern Association.
Other episodes of Pennsylvania Tavern Talk can be found by visiting YouTube here. Please remember to subscribe to Pennsylvania Tavern Talk.
The PLBTA is the statewide voice for small business bars, taverns, and licensed restaurants. The association was founded in the 1940s, and reorganized in 2019. It is responsible for organizing these establishments on a statewide basis for political purposes.