Increase The Liquor Discount: A Look At How Rep. Melissa Shusterman Wants To Help PA Bars, Taverns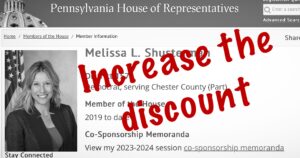 S1E5 of Pennsylvania Tavern Talk covers anticipated legislation to increase the liquor discount from 10 percent to 15 percent during the 2023-24 legislative cycle.
In a cosponsorship memo from Rep. Melissa Shusterman, she indicates her interest to help struggling Pennsylvania taverns, bars, and licensed restaurants by giving them an extra 5% discount when they purchase their liquor through the state. During the last two-year legislative cycle, a similar bill swept through the Pennsylvania State House of Representatives, receiving a 201-0 final vote. However, the bill did not move in the Pennsylvania State Senate.
Today, Pennsylvania's family-owned — small business — taverns, bars, and licensed restaurants find themselves in a hole that they've been put in by inflation, pandemic regulations, legislatively-created competition, and outdated liquor code. A bill like what Rep. Shusterman proposes, particularly if part of a larger package to help the industry, would be a good step in helping these establishments begin to climb out of that hole.
This episode is part of a playlist series (2023-2024 Legislation) that covers bills and sponsorship memos that would impact Pennsylvania's mom-and-pop bars, taverns, and licensed restaurants.
You can find this episode by clicking here.
To watch other episodes or to subscribe to the channel, click here.
Pennsylania Tavern Talk is hosted by Chuck Moran, executive director of the Pennsylvania Licensed Beverage and Tavern Association. The PLBTA is the statewide voice for small business bars, taverns, and licensed restaurants. The association was founded in the 1940s, and reorganized in 2019. The association is responsible for organizing these establishments on a statewide basis for political purposes.
UPDATE … as of mid-May 2023, this is now HB 1174.