Licensed Beverage Industry News: CGA Law Firm joins PLBA as Associate Member
York County law firm wants to help tavern owners with legal matters
(Harrisburg, PA – 8/4/18) The Pennsylvania Licensed Beverage and Tavern Association (PLBA) is pleased to announce that CGA Law Firm, a highly-recommended legal advisor to bars and restaurants, is the PLBA's newest Associate Member.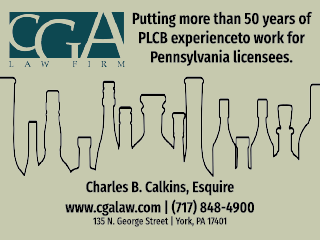 "CGA Law Firm has more than 50 years of excellence," said Chuck Moran, executive director for the PLBA. "We are excited that this new relationship will benefit our members."
According to Moran, members who tap the expertise of CGA Law Firm will receive preferred member rates. In the past, they have represented licensees in PLCB and related matters including license transfers and amendments, defense of citations and enforcement actions, as well as Dram Shop actions.
Based in York, CGA Law Firm attorneys also provide a full range of business law services to clients, including asset purchases, stock and LLC membership transfers, sale of commercial and resident real estate and commercial leases and resolution of employment law matters.
Charles B. Calkins, Esq., who also serves as solicitor for the York County Licensed Beverage Association, says his firm stands ready to assist PLBA members with their needs. "We're excited to be joining the PLBA, and believe members will find our services valuable."
Calkins is the CGA Law Firm expert on beverage licenses and laws. He has trained other attorneys in the firm, including Christine Nentwig. Extremely knowledgeable, he has built a team that can meet the unique needs of this exciting industry and has done much to increase the breadth and scope of CGA Law Firm's expertise in this area.
PLBA members should visit the preferred vendors section at www.pataverns.com to learn how to take advantage of this new relationship.
#     #     #
The Pennsylvania Licensed Beverage Association represents retail licensees in the Commonwealth of Pennsylvania. The Association formed after Prohibition in 1941 to ensure the legality, protection, and prosperity of the state's liquor and beer retail licensed businesses. From corner bars, delis and neighborhood taverns to five-star restaurants and resorts, PLBA's industry supports more than 100,000 Commonwealth jobs, and remains an established, important part of our communities. To learn more about the PLBA, visit www.pataverns.com.  The PLBA can be followed via Twitter @TavernPA. PLBA Executive Director Chuck Moran can be followed on Twitter via @ChuckMoran7.
For 51 years, CGA Law Firm has provided expertise and advice at the highest levels throughout Pennsylvania. This cohesive team of hard-working and skilled attorneys in South Central Pennsylvania has a reputation for producing extraordinary results for their clients in the areas of business and corporate law, tax law, real estate law, labor and employment law, estate planning and administration, elder law, bankruptcy and debt restructuring, family law (ex. divorce, child custody, child support, reproductive law), mediation/arbitration, litigation, municipal law, school law, and health law. CGA Law Firm truly lives up to their tag line, "One firm, all the law you need."​ To learn more about CGA Law Firm, visit www.cgalaw.com. The CGA Law Firm can be followed via Facebook and Twitter @CGALawFirm.