Pennsylvania's official summer adult drink declared by state taverns
Will raise funds for rare childhood diseases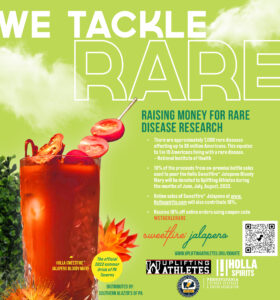 Pennsylvania's official summer adult drink for 2022 has been declared by a statewide trade association representing the bar industry, adding it will benefit the mission of Uplifting Athletes, a non-profit that raises awareness and research funds for rare childhood diseases.
The Pennsylvania Licensed Beverage and Tavern Association (PLBTA), on behalf of the state's taverns, bars, and licensed restaurants, has declared the Official Pennsylvania Adult Summer Drink for 2022 will be the Holla Sweetfire Jalapeno Bloody Mary. Holla Spirits, a Pennsylvania-based distillery in York, joins the effort and will donate 10% of sales of its Sweetfire Jalapeno brand from June through August to Uplifting Athletes.
Additional funds are being raised through sponsorships that allow a business to attach their name or logo to promotional items featuring the drink.
Uplifting Athletes, a nonprofit organization founded in 2007, harnesses the power of sport to build a community that invests in the lives of people impacted by rare diseases. Since 2007, Uplifting Athletes has raised more than $7 Million dollars by engaging athletes in order to positively impact the rare disease community through research and driving action. To learn more about Uplifting Athletes visit www.upliftingathletes.org.
"We are thrilled to be working with Holla Spirits and the PLBTA throughout the summer to bring awareness and drive action for people impacted by rare diseases," said Rob Long, executive director of Uplifting Athletes.
Holla Spirits founder Patrick Shorb says the idea of an official summer drink for Pennsylvania to benefit a worthy cause makes sense. "We're excited about this declaration from the state's taverns, and very happy to see it will benefit research into rare childhood diseases."
"It's only natural that Pennsylvania has an official summer adult drink declared by our association," said Chuck Moran, executive director for the PLBTA. "It's great we can tie it into a way to help raise funds for Uplifting Athletes too."
Starting June 1, Moran says patrons should ask their bartender for the Official Pennsylvania Summer Adult Drink of 2022 – The Holla Sweetfire Jalapeno Bloody Mary – when they're out with friends and family at Pennsylvania establishments. Holla Spirits is an active associate member of the PLBTA.
According to Shorb, the recipe for the drink will be available at www.HollaSpirits.com for those who wish to enjoy the drink at their homes.
#     #     #
Who is Uplifting Athletes
Uplifting Athletes, a 501(c) non-profit, was started at Penn State University after an athlete recognized the struggles a teammate and his family had as a result of a rare disease.
Damon Jones, a member of the Penn State football team, learned of the challenges that teammate Scott Shirley's family was enduring when Scott's father, Don Shirley, was diagnosed with a rare disease in 2002. Damon suggested that they do something since they were in a position to shine their spotlight on those who needed a voice.
The Penn State football team rallied around the idea of leveraging a summer strength and conditioning competition into a fundraising event called Lift For Life by opening it up to their fans and the media. They soon realized that the benefits of this new organization were far greater than they had imagined.
Since Day 1, Uplifting Athletes has focused on using the platform of college football to shine a spotlight on the rare disease cause while providing student-athletes a valuable leadership experience as well.
Today, Uplifting Athletes has chapters across the country. All fundraisers associated with Uplifting Athletes fuels its four charitable programs: Rare Disease Awareness, Rare Disease Research, Uplifting Experiences, and Uplifting Leaders.
Many involved with Uplifting Athletes are former NFL-bound players who had the misfortune of being diagnosed with a disease that ended their career before it even started.
Since its inception, Uplifting Athletes has raised more than $7 million to support its charitable mission.
You can learn more about Uplifting Athletes by visiting this link … https://www.upliftingathletes.org/