PaTaverns, licensed PaRestaurants on Philadelphia unmasking again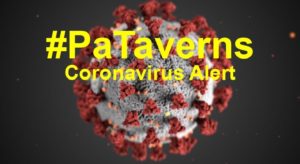 The following is a statement concerning an anticipated announcement on April 22 that Philadelphia is removing the reinstated mandatory mask mandate. It comes from Chuck Moran, executive director of the Pennsylvania Licensed Beverage and Tavern Association. The PLBTA, based in Harrisburg, is the statewide political voice for small business taverns, bars, and licensed restaurants.
(April 21, 2022) Multiple news reports on Thursday night indicated the City of Philadelphia will end its recently reinstated mask mandate for indoor locations such as taverns, bars, clubs, and licensed restaurants. The announcement is anticipated to be officially made Friday morning, and comes after an apparent vote by the city's Board of Health.
I'm sure Members of the Pennsylvania Licensed Beverage and Tavern Association will be thankful. Such mandates often put bartenders, servers, and managers in a position of being the mask police, something that they're not really trained to do. Ask hospitality staffers what it was like enforcing city mandates, and I'm sure many can share stories about patrons who simply did not want to comply. Some may even be able to share situations that felt threatening.
But, while they'll be thankful, they'll also be asking questions. What happened between Monday, when the mandate was reinstated, and Thursday night? Was the reinstatement really necessary? If there wasn't enough confusion this week on masking, the sudden change of mind is likely to have people scratching their heads, wondering about the reliability of formulas used to make the initial reinstatement decision.
Philadelphia's family-owned taverns, bars, and licensed restaurants have been through way too much during the past two years. They deserve better than what city officials did to them on Monday, only to quickly walk back that decision.
#     #     #