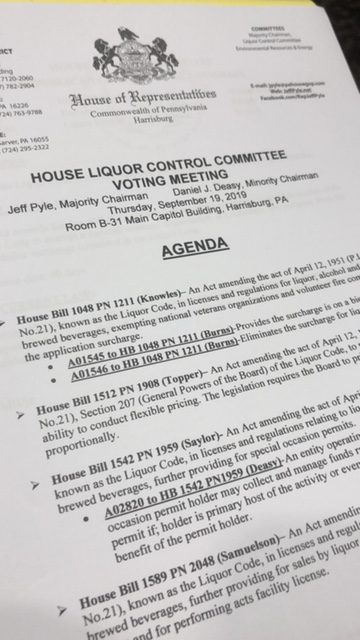 The Pennsylvania House Liquor Control Committee moved HB 1512 with a 15-10 vote down party lines at a voting meeting held on September 19.
Sponsored by Rep. Jesse Topper, HB 1512 would repeal flexible pricing granted to the Pennsylvania Liquor Control Board as part of Act 39. In a sponsorship memo, Rep. Topper wrote, "The PLCB championed flexible pricing as a way for the Board to more effectively negotiate with liquor suppliers, and to provide more revenue to the Commonwealth, while also using the new leverage flexible pricing provides the Board to lower the price of some products in State Stores. After seeing the impact of flexible pricing, I have not been convinced that this change has led to lower prices for the consumer, nor has the Board convincingly shown that this provision has provided our Commonwealth with increased revenues."
The vote by the House Liquor Control Committee comes after the bill was the subject of two hearings earlier this year.
The committee also moved three other bills during its meeting.
HB 1048, sponsored by Rep. Jerry Knowles would eliminate the $700 liquor license surcharge to fire companies and veteran organizations. Rep. Frank Burns attempted to amend the bill to eliminate the surcharge for all liquor licenses, but the amendment failed to receive a second and thus failed. However, Democratic Chair Dan Deasy said shortly afterwards that the proposed amendment is something that should be discussed for all licenses, but this bill dedicated to fire companies and veteran groups was not the place to do so.
Knowles original bill passed 25-0 to move out of committee.
HB 1542, sponsored by Rep. Stan Saylor, also passed 25-0. In a sponsorship memo earlier, Saylor wrote, "My legislation would allow any entity eligible for a special occasion permit to obtain that permit for nine consecutive or non-consecutive days throughout the year in addition to ten consecutive days. The purpose of my legislation is to allow the York County Agricultural Society, which owns the York fairgrounds and operates the York Fair, to obtain a special occasion permit for events held at the fairgrounds in addition to holding the permit for the duration of the Fair."
The York County Agricultural Society is also a Member of the Pennsylvania Licensed Beverage and Tavern Association.
Finally, the committee passed HB 1589, sponsored by Rep. Steve Samuelson. The vote was 25-0. This bill adjusts the operating hours for performing arts facilities to begin selling alcohol on Sunday from 1:00 pm to 10:00 am to better accommodate the various show times which often begin prior to 1:00. There are currently 95 active and pending Performing Arts Facility licensees statewide.