PaTaverns Statement: Amended HB 1615 balances sound regulations for liquor licensees; House encouraged to concur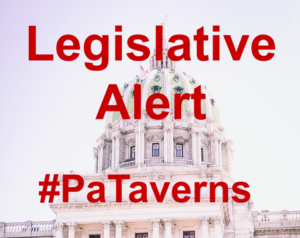 The following is a statement from Chuck Moran, executive director of the Pennsylvania Licensed Beverage and Tavern Association, concerning today's state Senate vote on HB 1615 that included an amendment related to sound regulations. The PLBTA, based in Harrisburg, is the statewide political voice for small business taverns, bars, and licensed restaurants.
Early this afternoon, the Pennsylvania Senate amended HB 1615 to balance sound regulations for all liquor licensees. This evening, the Senate passed the amended bill 50-0, sending it back to the state House for concurrence.
For the past three years, the Pennsylvania Licensed Beverage and Tavern Association has advocated for this change to balance the playing field for all liquor licensees, giving each the same rights as wineries. This has been a legislative priority set by our Board of Directors. The need for this change grew louder during the past two years as Pennsylvanians put greater demand on outdoor activities including dining and entertainment as a result of COVID concerns.
At this current time, any sound on the property line of a bar, tavern, licensed restaurant or club could result in a citation, essentially causing establishments to think twice about offering outdoor dining entertainment.
However, the amendment, offered by Sen. Kristin Phillips-Hill of York County, would change regulations by allowing all liquor licensees in counties class 2A through class 8 the same reasonable amount of sound on their property lines. As the bill is written today, licensees would be permitted up to 75 decibels on their property line from 10 a.m. to 9 p.m. Sunday through Thursday, and 10 a.m. to midnight on Fridays and Saturdays.
We believe this change is fair, and are happy that the state Senate passed the amended bill. We also believe the amended HB 1615 will ease pressure that discourages some establishments from offering outdoor dining options that the public demands. Needless to say, by balancing the playing field for all liquor licensees to compete, the world's most famous and popular language – music – could soon be coming at a reasonable sound level to outdoor dining settings across the state.
Sen. Phillips-Hill has been a champion in her work to help family-owned bars, taverns, and licensed restaurants find a solution to this outdated liquor code regulation.
Our Association thanks Sen. Phillips-Hill, as well as those who voted in favor of today's action to amend and pass HB 1615. The Pennsylvania Licensed Beverage and Tavern Association encourages the state House to concur quickly so that establishments and patrons across the state can begin benefitting.
#     #     #