PaTaverns COVID-19 Information and Guidance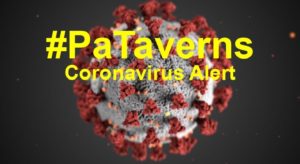 Since the start of the coronavirus crisis, the Pennsylvania Licensed Beverage and Tavern Association has kept its Members up-to-date with daily reports and links to important information to help them navigate these troubled waters. This page is a collection of important links in one location.
Last updated July 15, 2020, 5:45 p.m.
Orders and Legal Matters
Pennsylvania Liquor Control Board
Philadelphia City Council
Financial Matters
Coronavirus Aid, Relief, and Economic Security (CARES) Act
Small Business Owners Guide to the CARES Act

Paycheck Protection Program – The Paycheck Protection Program ("PPP") authorizes up to $349 billion in forgivable loans to small businesses to pay their employees during the COVID-19 crisis.
Economic Disaster Injury Loan via Small Business Administration – A quick infusion of a smaller amount of cash to cover you right now
Small Business Debt Relief Program – provide immediate relief to small businesses with non-disaster SBA loans
U.S. Small Business Administration
COVID-19 Relief Statewide Small Business Assistance
Pennsylvania's COVID-19 Working Capital Access Program (CWCA)

Access point for this program:  Certified Economic Development Organization (CEDO) for county where business is located (Find it here)
Eligible Businesses: Any for-profit businesses located in PA and with 100 or fewer employees worldwide may qualify for disaster relief loans. Your application must be processed through the CEDO designated for the county where your business is physically located.
Loan Amount: The lesser of 3 months of working capital not to exceed a loan amount of $100,000
Interest Rate: 0% for all business types except Agriculture Producers
Amortization: 12 years
Term: 3 years
Repayment: No payment in first 12 months, amortized payments monthly for the following 24 months, one balloon payment for the remaining balance in the 37th month
Collateral: Blanket lien on all current business assets and any acquired in the future in first available lien position
Guarantors: All owners (individual or other business entities) owning 20% or more of applicant business must guarantee the loan. Some credit criteria for approval (as evaluated by PIDA) may include: at least breakeven performance in the prior year, acceptable personal credit history of the guarantors, and historical cash flow adequate to pay obligations
Items needed for your application:

For the intended Borrower (Applicant Company, an Operating Company):

Most recent year financials (accountant prepared or filed tax return)
Interim Financials (income statement at least) prepared by management from last full year statements (see bullet above) through current
For the Guarantors (any owner, individual or business entity, with 20% or more interest in Borrower):

Signed Certification Sheet (Individuals) (Business Entities)
For individuals: A signed and dated Personal Financial Statement (Click Here for blank form) or provide what you have already prepared dated within last 12 months
For business entities: Most recent year of financial statements
Rapid Response Assistance – for businesses that have had to close either temporarily, consider layoffs, or is financially at-risk for permanent closure. This program from the Pennsylvania Department of Community and Economic Development is available to assist you with a variety of services and resources to help you and your employees.
Unemployment Compensation
Pandemic Unemployment Assistance
This applies for those who typically do not qualify for unemployment compensation. We anticipate Pennsylvania having this program up-and-running towards the end of April.
Mental Health Assistance
Disaster Distress Helpline – Call 1-800-985-5990 or text TalkWithUs to 66746
National Suicide Prevention Lifeline – Call 800-273-8255 or Chat with Lifeline
Crisis Textline – Text TALK to 741741
Health Safety
General Business Advice
Pennsylvania Licensed Beverage and Tavern Association Membership
Pennsylvania Licensed Beverage and Tavern Association Letters To Members
Pennsylvania Licensed Beverage and Tavern Association In The News