PaTaverns To Testify On Industry Survival And Recovery Needs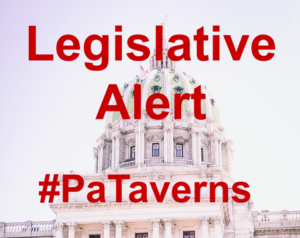 The Pennsylvania Licensed Beverage and Tavern Association (PLBTA) will testify on July 28 in front of the Pennsylvania Majority Policy Committee, chaired by Rep. Martin Causer (R-Cameron/McKean/Potter), to discuss how COVID-19 mitigation efforts are negatively impacting small business licensed restaurants and taverns across the state.
Representing the PLBTA will be Jim DeLisio, owner of the Racehorse Tavern in Thomasville and a member of the PLBTA Board of Directors. Mr. DeLisio is also president of the York County Tavern Association. Joining Mr. DeLisio will be Chuck Moran, executive director of the state association.
As the leading advocate for Pennsylvania's small business taverns and licensed restaurants in Harrisburg, the PLBTA has been calling upon state leaders to piece together a survival and recovery program.
"Simply put, the state's current COVID-19 order threatens both businesses and jobs," says Moran. "Our industry is at a tipping point, and without assistance you can expect even more of these valued community gathering spots to disappear."
According to Moran, members of the PLBTA have a business model that relies heavily on the sale of beer, wine, and mixed drinks. He says 63 percent of his average member's business is the sale of those drinks. Furthermore, the average establishment employs about 16 Pennsylvania workers.
"Based on our calculations using state licensing data and member surveys, our small business taverns and licensed restaurants – many family-owned – employ more than 150,000 statewide," Moran says. "A lot of jobs are on the line, and we need to find ways to preserve these small businesses to save the jobs and the roles they provide within communities."
Moran says the current COVID-19 orders restricts business to 25 percent indoor occupancy, disallows service at the bar, and limits the sale of adult beverages to only when a patron is eating.
"We had already lost a number of bars and taverns that were forced to close because of earlier state orders this spring.  The losses incurred earlier combined with the latest orders was like a torpedo hitting an already damaged ship, and now the ship is sinking faster," Moran says. "Pennsylvania taverns rely so heavily on the sale of adult beverages that the most recent order is forcing them to close up shop and send staff to the unemployment lines. The state needs to be a part of the solution in keeping these businesses afloat and then helping them recover in the aftermath of COVID-19."
The hearing will be held at 10 a.m. Tuesday, July 28, in the House Majority Caucus Room, Room 140, Main Capitol.
Others invited to testify include the Pennsylvania Federation of Fraternal and Social Organizations, Pennsylvania Restaurant and Lodging Association, and the Wolf administration.
The Tavern Association is advocating for a comprehensive state package to assist with both survival and then recovery for licensees who have suffered losses since March 6. The association is recommending the following:
Passage of legislation to provide grants to small business restaurants and taverns to assist with COVID-19-related business losses, and expenses including costs associated with new outdoor seating, educational expenses including trade association memberships, hand sanitizer, staff PPE, indoor separators (plexiglass installation), digital thermometers…etc.
Elimination of all license fees and surcharges for liquor-related service establishments for two years, provided the establishment had previously allowed on-site consumption.
Elimination of all small games of chance license fees for R, H, E, and clubs for two years.
Passage of legislation providing limited civil Immunity from liability for bars, taverns and restaurants that attempt, in good faith, to adhere to the provisions of the COVID-19 emergency declaration, the Governor's 3-16-2020 COVID-19 Business Closure Order or any other executive order relating to COVID-19, or any guidance issued by the Pennsylvania Liquor Control Board, the Department of Health or the Secretary of Health.
Creation of a Small Business Tavern and Licensed Restaurant Promotion Program coordinated by both the PLCB and the Pennsylvania Licensed Beverage and Tavern Association to equal those financed for the beer, wine and spirits craft industries.
Create a Liquor Licensee Specialty Council consisting of specialty associations within the industry including taverns, clubs, brew pubs, wineries, and distilleries to build future industry/state government dialogue.
Permanent acceptance of mixed drinks-to-go as a business practice under the state Liquor Laws.
To save money from delivery charges, allow licensed establishments the ability to pick up and deliver their own malt beverage orders, like the model followed when ordering spirits through the PLCB.
Encourage outdoor seating by making the free temporary licensed premise extensions permanent at no additional cost to the licensee.
Encourage outdoor seating expansion and support the entertainment industry by allowing up to 75 decibels of noise on a property line for all establishments with a liquor license, not just some.
Modernize the state's sanitation requirements to require tap cleaning once every 14 days.
Cap third-party delivery charges for home delivery of meals from all restaurants and taverns.
Increase the discount licensees receive when purchasing liquor through state stores.
Eliminate the $50 minimum purchase requirement at state stores in order for a licensed establishment to receive a discount.
#     #     #
About the Pennsylvania Licensed Beverage and Tavern Association
The Pennsylvania Licensed Beverage and Tavern Association is a statewide association based in Harrisburg, representing small business taverns and licensed restaurants in the Commonwealth of Pennsylvania. The Association formed in 1941, reorganized in 2019, and today advocates for best practices and rights within the industry as well as best experiences for patrons.