Testimony: Industry Survival and Recovery Needs to Preserve Businesses and Jobs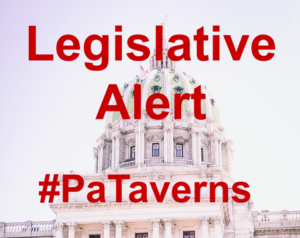 The following is testimony presented to the Pennsylvania House of Representatives Republican Policy Committee on July 28, 2020, by Jim DeLisio, PLBTA Board Member and York County Tavern Association President. Mr. DeLisio is also the owner of the Racehorse Tavern. Joining him to present was Chuck Moran, Executive Director, PLBTA. The testimony was provided as to discuss problems the COVID-19 crisis has caused for the tavern industry, and to raise awarenes of industry needs to survive.
Chuck Moran
Chairman Causer, members of the Committee, good morning. I'm Chuck Moran, executive director of the Pennsylvania Licensed Beverage and Tavern Association. With me is Jim DeLisio, a Board Member of the Pennsylvania Licensed Beverage and Tavern Association and also President of the York County Tavern Association. Jim is the owner of the Racehorse Tavern, an independent family-run establishment in Thomasville.
Let me begin by thanking you for inviting the Pennsylvania Licensed Beverage and Tavern Association to testify today about our struggling industry as a result of the COVID-19 crisis and state orders. We appreciate being here to share the story of our Members and industry.
I'm going to start off with some general information about our Association, our Members, and our industry. Then I'm going to ask Jim to tell his story and the daily struggles that he and his employees face daily.
The Tavern Association represents more than 400 small business taverns, pubs, and licensed restaurants across the state. Most of our Members own "R" and "H" licenses while some may have an "E" or even a club license.  For the most part, we are your local bars, taverns, pubs, and licensed restaurants.  We do not actively recruit large chains, grocery stores, or convenience stores which have an R license (and many have Wine Expanded Permits).
In terms of business, our average Member makes a living primarily from alcohol sales. In fact, based on our Membership studies, about 63 percent of their business is alcohol sales and 37% of sales are from food.  For what it's worth, the most popular beer served would be Bud, while the most popular mixed drink would be Jack and Coke.
Based upon Membership studies, our average member employs about 16 individuals including the owner and family members. They serve less than 4,000 customers every month. If you count the chairs and barstools, throughout my Member establishments, you'll find less than 100.
Again, my Members are your locally-owned, mom-and-pop businesses.
For the sake of overall industry data, looking at the state list of active R and H licenses, there are about 9,400 licensees that are not grocery stores, convenience stores or large chains.  These are primarily small businesses.
Knowing that my average Member employs about 16 individuals, Pennsylvania's small business R and H licensees create around 150,000 jobs.  And, assuming national industry data is correct, you can anticipate more than half are women, many of whom are single mothers.
Based on one national study from earlier in the crisis, 81 percent of these employees have been laid off or furloughed early in the crisis. We worry that with the latest state orders, many of those who returned to jobs are now almost assuredly facing another layoff.
One national research institute estimated that restaurants have only a 15 percent chance of remaining open if the crisis lasts six months. We are now four full months into this crisis, and we worry that the latest state orders will accelerate closures.
Since March, these small business establishments along with their employees have been on a downward spiral. I've spent many hours on the phone talking some off the edge. For the owner, their business is their retirement package. For their employees, the job they have is extremely important to keep up with their bills.
They are all scared and I can hear the panic in their voices when they call.
To give you an example of how serious the situation has become, I have one Member that I was so worried about that I gave her the phone number for the Suicide Prevention Hotline.  I get daily calls and emails telling me that members are being forced to close their doors.
My job has suddenly become that of a counselor and I literally spend hours every day listening to or responding to emails from Members who are desperate.
In March and April, those who remained open were just barely keeping their heads above water when allowed only to offer take-out service. Some didn't even open, because there was no way to NOT lose money operating on sales of less than 10% of normal.
That's ten percent of normal, with 100% operational costs in an industry where the profit margin is well below five percent.  Let that sink in.
Thankfully, your work to legalize mixed spirits drinks to go on a temporary basis was a lifeline that kept many afloat through that stage of the crisis. And your efforts to push for outside seating under the Yellow Phase allowed many of them to at least ride along in hopes of a resurgence of business when their counties went Green.  We thank you for doing so.
My Members thought they were beginning to see the light at the end of the tunnel as each county graduated from Red to Yellow and then to Green. While not the perfect business scenario for the industry, establishments were able to restart outdoor and indoor service with limitations.
But, it turned out to be false hope. Governor Wolf's order on July 15 was a set back for every tavern and licensed restaurant in the state – including the good apples who were doing everything right. It closed their bar seating, further limited indoor seating to 25 percent, and required a meal to be ordered with drinks either indoor or outdoor.
The impact of the Governor's so-called "targeted" response has been negative, especially so in areas of the state with low COVID statistics. The broad brush stroke – at a time when state enforcement data shows a low number of warnings and no citations – is quite questionable. It's a shotgun approach that has had collateral damage. Simply put, it's hitting the wrong targets. The revised order cast a large net, but only caught the good apples, letting the bad apples continue to operate as if nothing is wrong.
Our industry at a tipping point. Our local taverns and licensed restaurants need help if they are going to make it through this crisis and save jobs.
You have with our testimony a list of recommendations from our Association. While many are relying on the federal government to provide an industry bailout, we are also calling upon the state to do something.  In fact, there are quite a few things that should be considered to make a difference and ease some stress. These range from additional grants to erasing licensing fees for two years – one year to make up for this lost year and one year to help with recovery.
At this point, I'll turn the mic over to Jim to tell his personal story.
Jim DeLisio
Personal story of his business

Initially closed
Rethought business model
Costs associated with license
Cost associated with safety compliance
Impact on his employees

York County industry observation

Industry needs 65-to-70 percent capacity just to break even
Bartender and server tips are down overall
Estimates that 10-15% of bars in York County have had to close for good, while another 30 to 40% are temporarily closed.
Again, thank you for this opportunity. If you have any questions, we'll be happy to provide thoughts.