PaTaverns, PaDistillery turn drink into fundraiser for rare disease research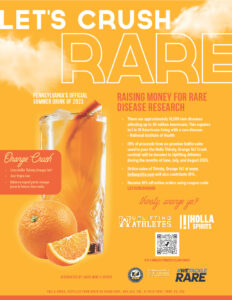 (Harrisburg, Pa. / May 22, 2023) To help celebrate both National Craft Distillery Day and National Tavern Month, today a statewide trade association representing Pennsylvania taverns declared the Keystone State's official summer adult drink for 2023 while a Pennsylvania distillery simultaneously announced it would donate a percentage of its summer vodka sales used to make the drink to a non-profit helping people impacted by rare diseases.
The Pennsylvania Licensed Beverage and Tavern Association (PLBTA), on behalf of the state's taverns, bars, and licensed restaurants, declared the Official Pennsylvania Adult Summer Drink for 2023 will be the Orange Crush.
Holla Spirits, a Pennsylvania-based distillery in York County, followed up and said it will donate 10% of sales of its Thirsty, Orange ya?TM vodka from June through August to Uplifting Athletes.
The organizations challenged other Pennsylvania-based distilleries to join the fundraising effort, while encouraging the state's bars to add the drink to their summer cocktail menus.
"With a statewide membership of small business bars, taverns, and licensed restaurants, it makes logical sense for us to declare Pennsylvania's Official Summer Drink for adults," said Chuck Moran, executive director for the PLBTA. "More importantly, it's even better that we can link it to a worthy cause through a partnership of Pennsylvania's distilleries and taverns."
Holla Spirits founder Patrick Shorb says having an official summer drink for Pennsylvania to benefit a worthy cause makes sense, and his company is more than willing to participate. "As someone impacted by rare diseases, our brand is passionate about doing our part to assist organizations dedicated to fighting these horrible conditions," he said, "We're excited about this declaration from the state's taverns, and very happy to participate."
Uplifting Athletes, a nonprofit organization founded in 2007, harnesses the power of sport to build a community that invests in the lives of people impacted by rare diseases. Since 2007, Uplifting Athletes has raised more than $8 million dollars by engaging athletes in order to positively impact the rare disease community through research and driving action. To learn more about Uplifting Athletes visit www.upliftingathletes.org.
"We are thankful that both Holla Spirits and the PLBTA want to help raise funds throughout the summer to bring awareness and drive action for people impacted by rare diseases," said Rob Long, executive director of Uplifting Athletes.
Shorb says starting June 1, tavern patrons should ask their bartenders for the Official Pennsylvania Summer Adult Drink of 2023 using Holla Spirits Thirsty, Orange ya? vodka. Shorb adds that the recipe for the drink will be available at www.HollaSpirits.com for those who wish to enjoy the drink at home.
Other distilleries interested in joining the effort can contact either Shorb (717-676-1899) or Moran (717-232-8671).